ARCHITECTURAL DESIGN ELEMENTS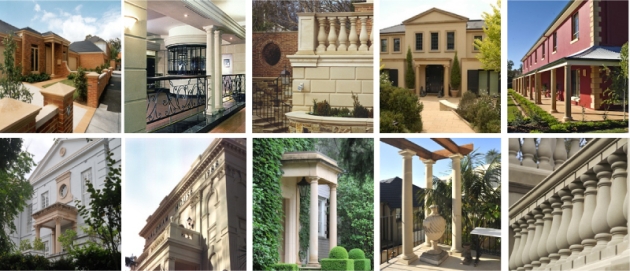 Nustone has a wide range of columns, balustrading, facade elements and wall capping in standard sizes or items can be made to suit you particular needs.
Nustone can match existing work to high tolerances at an affordable cost. We work with Heritage Architects to draft specifications and feasibility studies.
GRC BENEFITS: The benefits of GRC composite material in conservation work includes its extreme malleability. Virtually any shape can be reproduced. Its high tensile strength means edges which are resistant to spalling or crumbling. The material is economical to handle and install, is very easy to cut with a hand grinder, has high tensile strength, doesn't fracture or spall, and is economical to manufacture in quantity.
DURABILITY, STABILITY: GRC is also durable and resistant to thermal stresses and atmospheric pollution. The manufacturing process is extremely energy efficient, no heat is used, and there are no toxic residues. The low weight of our composite means a far lighter frame structure is required to support the cladding and facade elements.
Please use the links below to read more about our architectural design elements.
---
Architectural Design Elements Portfolio - Click to read more | Architectural Design Elements Heritage - Click to read more
---