AUSTRALIAN PORPHYRY STONE BY NUSTONE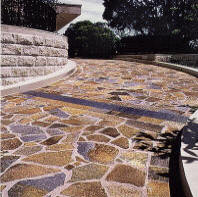 Nustone's Australian Porphyry Stone is a volcanic rock formed during ancient volcanic eruptions, when liquid magma flowed through cracks in the Earth.
Australian Porphyry stone from Nustone is suitable for a wide range of applications including:
Driveways
Building forecourts
Pedestrian crossings
Roadways
Swimming pools
Water features
Garden Paths
Feature walls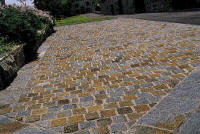 Nustone Australian porphyry stone exhibits the following properties:
High durability
Slip resistance
Fade resistance
Salt resistance
Abrasion resistance.
Nustone can supply porphyry stone in the following:
Guillotined Setts - 90mm x 90mm x 40 - 70mm thickness
(guillotined setts or cobbles)
Random Stone - 20 - 40mm or 40 - 70mm thickness
(crazy pavers)
Wallstone Strips - random lengths and varying thicknesses
(bookleaf)
Sawn Pavers - 200mm x random length x 40 - 70mm thickness
(paving stones with diamond sawn edges)
Australian Porphyry stone from Nustone is quarried and processed in Australia.
Colours
Nustone Australian porphyry stone is available in grey and earth-tone.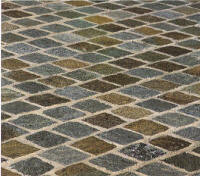 Subtle variations in shade are typical in the grey coloured stones.
The earth-tone stones display a range of colours including brown, tan, red, green and gold.
Being a natural stone, the colour variations are caused by the amount of oxides, water and concretions that have infiltrated the stone over the centuries. Generally, the earth-toned stones are quarried from near the top of the quarry, where they have had more exposure to the elements. While the grey stone comes from deep in the quarry and as such has had less exposure to the natural forces.
Should you have any questions or require more information on our range of Australian porphyry stone, or laying / fixing instructions or copies of the test results, please email us, we value your enquires and will respond to your enquiry ASAP.